CATT Arezzo
June 18-24, 2023

The Centre for Alternative Theatre Training (CATT) is thrilled to invite you to Arezzo, Italy!
33 Hours of advanced performance instruction will be held at Spazio Seme from June 18-24, 2023.
Arezzo is a Tuscan city in the heart of Italy, with 99 179 inhabitants. Known worldwide as the City of Gold, it is the city of Francesco Petrarca and Guido Monaco, the inventor of musical notation. It was home to the oldest university in Tuscany and one of the first in Europe. Upon arrival, one should not be surprised by the heart of the medieval village, which elegantly tells of the great seasons of the art and architecture of Arezzo.
Next to the medieval towers stands the imposing Vasari Loggiato, an architectural work by Giorgio Vasari (model of the one later built by the Arezzo artist for the Uffizi). The city center also features the Palazzo della Fraternita dei Laici, a synthesis of Gothic architecture and Renaissance as well as the apse of the Romanesque church of Santa Maria.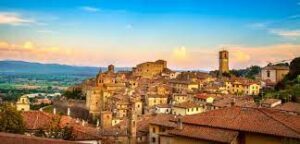 Fees
International Visitors
€250/USD 300/C 350. A non-refundable deposit of €150 is required upon registration.
Travel, visa, local transportation, insurance expenses are borne by participants.
Individuals Registered at University/Conservatory
€150/USD 200/C 250. A non-refundable deposit of €100 is required upon registration.
Travel, local transportation, insurance expenses are borne by participants.
Former CATT Assistants – Free
Enrolment is limited to 16 participants.
Payment must be made in full by May 1st by Paypal or Canadian Interac.
*Participants must pay the transaction cost: transaction should be marked as personal
The Intensive:
Creating Truth
The Intensive will consist of two daily sessions
JUNE 18 Orientation at Spazio Seme
19
Morning Session/Afternoon Session
20
Morning Session/Afternoon Session
21
Morning Session/Afternoon Session
22
Morning Session/Afternoon Session
23
Morning Session/Afternoon Session
24
Morning Session/Afternoon Session/Celebration Dinner
Morning Session: Maner Manush
With Cinzia Grande & Andrea Lattari, 0930-1200

Cinzia and Andrea, masters of expressive theatre forms from commedia dell' arte to Indian chanting, work with actors to find the deepest parts of their spirit. Profound truth in acting is created only through absolute honesty in the actor, and by acquiring the expressive skills to transmit belief to the spectator. Through alternative forms of movement, rhythm, and vocalisation, the actor expands beyond simple realism and creates the world as a prism.
Afternoon Session: Boxwhatbox
With Michael Devine, 1300-1600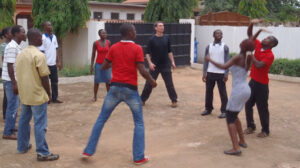 Michael's work uses games, exercises and études to expand the actor's ability to create truth and authenticity in performance. The principles of BoxWhatBox are Power, Control, and Joy. Balancing these, and maximising their expression, is the work of the truthful actor. Through work in the Four Expressive Vocabularies the actor becomes more than a mere interpreter, but a link connecting the spectator and the transcendent.
Cinzia Grande and Andrea Lattari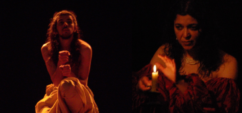 Co-Founders and co-Directors of award winning company Teatro Maner Manush (Italia), and IMAGO MUNDI Cultural Association. Performance Associates with the Centre for Alternative Theatre Training (CATT) since 2013.
Andrea, a recognized expert in Commedia dell' arte, has worked for more than 15 years with his partner Cinzia Grande in international theatre as an actor, author, director and instructor, creating performances which have been awarded with prizes in International Theater Festivals in London, Slovakia, Greece, India and USA. Andrea's work fuses artistic disciplines from painting and music to theatre, as in the Maner Manush productions Michelangelo da Caravaggio and Artemisia. His artistry fuses theatrical tradition into an immediate, resonant present, reaching across and between cultures.
Cinzia's expertise includes many aspects of Oriental Theatre. An actress, director, costume designer/builder and teacher, she has studied Indian classical chanting, folk and religious music, and performed with the mystic itinerant musicians Baul of Bengal, with further research in the ethnomusicological use of voice in theatre. With Maner Manush and Imago Mundi Cultural Association she has co-created several award-winning shows at International Theater Festivals in many countries: England, United States, Greece, Slovakia, India. In 2014 she wrote and created The Inn of Crossed Destinies, produced in USA, presented at Theatre World Festival. Her intercultural performance research was central to the creation of Michelangelo da Caravaggio and Artemisia. Cinzia's work centres on the actor's body languages, fusing traditional and new forms from different cultures.
Michael Devine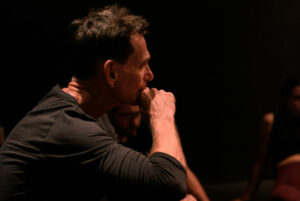 Founder and Executive Director of the Centre for Alternative Theatre Training (CATT). Michael has directed nearly 50 professional productions in nine languages, at national theatres, site specific locations and with experimental companies in Canada, Serbia, Kosovo, Romania, and Hungary. Guest artist at fourteen international theatre festivals. Playwright and theatre theorist, Michael created the BoxWhatBox system of actor training and performance creation in 2004. It has featured in more than 20 countries on five continents. Classically trained as an actor in London (UK) at LAMDA and New York City at the HB Studio. Michael created and directed Kontakt for the FLIPT Festival (Italia) and Sherif Mounira for Theatre Laban (Beirut, LB) in 2021. His first collection of plays, Playing Outside the Lines, was published in 2022. In 2023 The BoxWhatBox Book: Acting for the 21st Century, a summary of the BoxWhatBox system, will be published by FriesenPress.
Your Time in Arezzo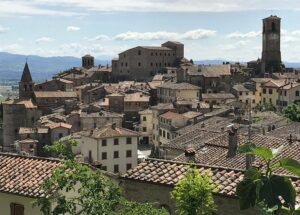 Arezzo is an historic city of about 100,000 people located in western Tuscany, central Italy, about 1h south of Firenze (Florence). Dating back more than 2000 years to the ancient Etruscans, the city features numerous historic sites and museums and retains its historic look and mood. One of its most famous events is the Giostra del Saracino (The Saracen's Joust). This 1500 year-old game is based on a horse competition held in Piazza Grande, the main square:. Arezzo's four main neighbourhoods are represented by two Knights, who have to hit the shield of the "Buratto": a wooden figure which represents the king of India. Once hit, this figure rotates and three lead balls are put in motion which can hit the knight! The prize is the "Lancia d'oro", a wooden spear on which historical characters or scenes are engraved, embellished with gold leaves and precious stones.
This year the Saracens' Joust takes place on June 17, so if you decide to come to Arezzo a day or two early for CATT you can see it!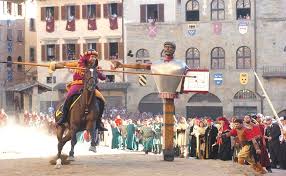 Spazio Seme:
Spazio Seme is an international centre that has been active for 10 years in Arezzo and deals with all-round artistic training: from singing to theater, from storytelling to the arts of expressive movement. They have organized over 500 public entertainment events and 30 artistic residencies, and brought shows to 34 countries, from Greece, Mexico to Norway, Ireland, Chile, Tunisia and India.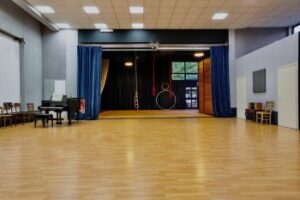 Spazio Seme mainly deals with general artistic production, as well as promotion and dissemination through performances in national and international shows, seasons and festivals. Through its relationships between artists and professionals, Spazio Seme promotes new opportunities for collaborations among different "movement arts", moving beyond languages, differences, ideologies and religions barriers to engaging in a fruitful way with diversity and disability. spazioseme.com
Accommodations
Airbnb, Booking.com and other major sites all feature lots of accommodation in Arezzo; it can be pricey in the summer, so consider sharing, booking for a week or more, or taking advantage early of the discount CATT and Spazio Seme have worked out with Arezzo Sport College. It's 5 minutes' walk from Spazio Seme and the rates for clean, modest accommodation (with breakfast!) are €60 single per night, €39 double per night, €36 triple per night, and €30.50 quadruple per night. This rate is only available through our friends at Spazio Seme so if you wish to book, contact us at cattintensives@gmail.com. Space is limited, so book early if you're interested!
Arezzo Sports College
Offering an outdoor pool and hot tub, Arezzo Sport College Hotel is located in Arezzo, 2 km from the Cathedral and just a 5 minute walk from Spazio Seme. On site there is a bar and an excellent restaurant. All rooms and apartments have air conditioning and a private bathroom with shower. The apartments also include a kitchen and living room with sofa bed. Arezzo Sport College Hotel features a garden and sun terrace. In the nearby clubs you can find tennis courts and athletics. The Stadio Città di Arezzo is a 10-minute walk from the property. Arezzo Train Station is 2.5 km away. arezzosportcollege.it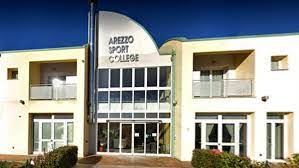 Good Things to Know:
In June the average temperature is 26.1°C.

The city is compact and easy to walk around. If you stay at the Sport Hotel, it is walking distance to our home at Spazio Seme.

Arezzo is simple to get to by train from Florence or Rome. Depending on the kind of train you take, the travel time varies from 45min. (from Florence) to 1h30 (high speed from Rome) to 2h30 (direct ordinary train from Rome). There are two train companies in Italy: Trenitalia and Italo Treno:

https://www.trenitalia.com/en.html or https://www.italotreno.it/en

You can also take a bus. Websites like BusBud can help you book a ticket online:

https://www.busbud.com/en/bus-rome-arezzo/r/sr2yk4-sr8rq2

Getting in to Rome from either Fiumicino or Ciampino airports is simple and cheap. The Leonardo da Vinci Express is the fastest and best value for money:

https://leonardo-express.com/en/en-leonardo-express-tickets/

You can also book a bus ticket to Termini train station from either Rome airport through Terravision:

https://www.terravision.eu/airport_transfer/bus-fiumicino-airport-rome/

The currency used in Italy is the Euro. It's simple to withdraw money from ATMs using your bankcard. Italian retail increasingly uses on-line pay systems as well, such as WePay or FourSquare. You will not need to carry a bunch of cash. If you do want to exchange your currency for Euros, wait until you're in the city and go to a recognised currency exchange rather than doing it in your country or at the airport.

Bring two adapters to power your phone and laptop; a multi-adapter and a smaller adapter for the phone. The European standard plug is a "C", the two pronged, ungrounded plug you can see here:

https://www.worldstandards.eu/electricity/plugs-and-sockets/c/

Arezzo is a modern city with everything you need for hygiene, food, and recreation. Pack light, travel light!