CATT India
December 11-18, 2022
The Centre for Alternative Theatre Training (CATT) is thrilled to invite you to a fully immersive international theatre residency in Santiniketan, India. The residency is an international meeting of theatre, music and art, and is open to artists of all backgrounds who love theatre and would like to know more about human cultures. You will spend a full immersive week living in connection with the nature and beauty of India, meeting local communities, and sharing theatre practices in an international and exciting environment.
The Residency will take place at Moram, located just 12 Km from Santiniketan, (West Bengal), nestled in the heart of a picturesque village called Debanandapur.
Moram gives you the perfect experience of staying in nature. It has always promoted ecotourism and sustainable living. It makes use of resources that do not disrupt the ecological balance of the environment, in connection with the core of nature.
The stage in Moram is a perfect circle for performances that are connected to nature.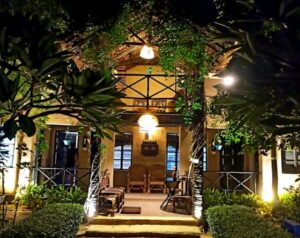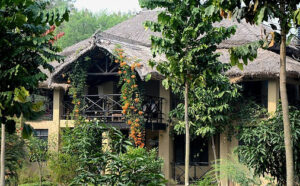 Residency fee – International Visitors
€550 fee covers both Sessions, accommodation and food (morning Tea, Breakfast, Lunch, Evening Tea with Snacks and Dinner) for one week. A deposit of €150 is required upon registration.
Travel, visa, local transportation, insurance expenses are borne by participants.
Residency fee – Indian Nationals
€450 fee covers both Sessions, accommodation and food (morning Tea, Breakfast, Lunch, Evening Tea with Snacks and Dinner) for one week. A deposit of €100 is required upon registration.
Travel, local transportation, insurance expenses are borne by participants.
The Residency
The Residency will consist of two daily sessions, accommodations and food for the week
Session 1: Storytellers
With Cinzia Grande and Andrea Lattari

This session is dedicated to the role of Storytellers, and playing with new and traditional languages of performing arts. In every society, the Storyteller is the key to understanding the past and the present of a community. Art arises from exchanges and encounters between people and communities. Performative practices arouse the vital fluid of cultures and people's creativity.
The session is a meeting of arts and cultures. During an emotional week, participants will discover the art of Storytellers, their roles in society, traditional tales and epic chants of oral traditions, all while experimenting with the unifying power of theatre and searching the roots of the universal story about the origin of life and humankind.
Session 2: The Storyteller's Toolkit
With Michael Devine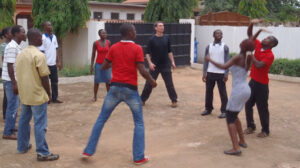 This session explores all the expressive vocabularies and tools available to the performing storyteller: postural, gestural, verbal and non-verbal. Along with these, the storyteller learns the application of rhythm to create musicality in speech: range, stress points, tempo variation. Above all, storytelling is a physical act. Each morning at Moram actors and artists will wake up and train their bodies to tell stories.
Cinzia Grande and Andrea Lattari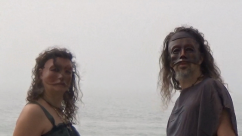 Cinzia Grande and Andrea Lattari, actors, directors, founders of Theatre Company MANER MANUSH devote their lives to theatre, studying the roots of performing arts in several countries. They lead international workshops of training and creation for actors and artists. Grande and Lattari are contemporary storytellers, using the Italian traditional masks of Commedia dell'Arte, as well as new performance languages. They collect ancient poems, traditional chants in Italy and from different cultures, to rediscover cultural heritages, oral traditions and theatrical practices: the way in which communities represent themselves. They travel around the world, collaborating with artists of all disciplines, creating deep links and original works. The theatre anthropologic and ethnomusicological research, the study of different rites and traditions, is the basis for Theatre Company MANER MANUSH to create shows and performances that celebrate human cultures.
Michael Devine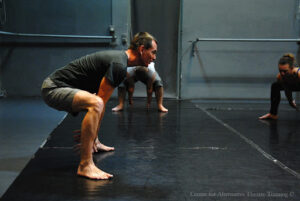 Michael Devine, founder and director of CATT, is a theatre director who has worked internationally for over 25 years. Through BoxWhatBox, a performance creation method he created, Michael has developed and directed original productions in the native language of many cultures across the world. Director, playwright, classically trained actor, essayist, dramaturg, Michael gives masterclasses around the globe in alternative theatre performance.
Your Stay at Moram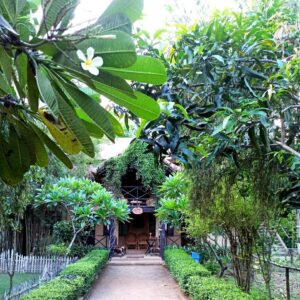 Moram believes in responsible tourism that involves the community of tribes of the villages. Trying to generate livelihood opportunities for the marginalized class, especially women, Moram is run by the people of the land, from the nearby tribal village. It helps in the preservation of the heritage and traditional culture of the region. AIM- Art Illuminates Mankind, an non-governmental organization with the motto of Be Peaceful and Useful was instrumental in founding Moram. Based on Love, Peace, and Humanity, Moram holds a sense of Art and Aesthetics at its core. It gives the experience of rural living. It holds the stories of the lost tribe.
Set among a beautiful landscape of lush greenery, Moram is practically built in the lap of nature. The fresh feel of damp grass under your feet, the dewdrop on every leaf, the vibrant flowers, the birds and animals all around, and the harmony of living here make Moram a lush green paradise, a pure bucolic eco-village where you can again seek for your soul. Welcome to Moram, Welcome to the land of Art.
Accommodations & Food
Moram offers nice and comfortable rooms, with Morning Tea, Breakfast, Lunch, Evening Tea with Snacks, and Dinner. Meals are vegetarian and local style, the best of Indian Bengali cuisine. Food cooked in Moram is not only fresh but also grown in Moram itself. They have an extensive farming program. Most of the vegetables offered on the menu are grown in Moram. Enjoy your meals which are fresh from the farm to the table. Organic farming is one of the most sustainable forms of agriculture that is conducted without any addition of preservatives and chemical pesticides. Pure and organic vegetables that will delight not only your body but also your soul!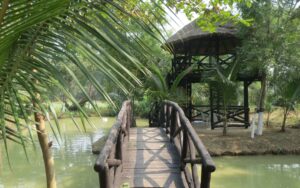 How to get there
Air: Kolkata (CCU) NSB International airport Netaji Subhash Chandra Bose is around 160Km connected by road and rail.
Train: Bolpur Santiniketan (BHP) is the nearest railway station.
Road: Well connected by road with Kolkata.
If you organize it in advance, it's possible for groups to rent a cab with driver.